Female Android Cornucopia
Jump to navigation
Jump to search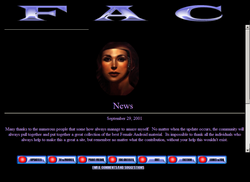 Female Android Cornucopia (abbreviated as FAC) was a website dedicated to fembot fetishism, started by Solo351 in the early 1990s.
History
Initially, Female Android Cornucopia featured mostly Solo351's own photo manipulation work, as well as that of other artists such as Kishin.
Later, Solo351 passed all materials and ownership of FAC to Kishin, who teamed up with Chevy Monza in the late 1990s to keep it running. It is probably at this point that the website moved to the URL http://monza.yi.org/Preview/. The website also expanded to host art and writing by other participants of the fetish.
With this change in ownership, FAC reworked its home page to feature an unsourced artwork that was later removed at the artist's request. A subsequent contest was held by Chevy and Kishin to find a new front cover picture, with Maxyz's entry being chosen.
Gallery
The picture used for the third FAC main page, by Maxyz
External links

This article is a stub. You can help FembotWiki by expanding it and adding images.
---