Female Android Cornucopia
Jump to navigation
Jump to search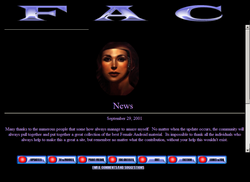 The Female Android Cornucopia (known simply as FAC) was one of the first websites dedicated to the sexual appreciation of female robots.
It was started by Solo351 in the early 90s and originally had to share a domain name with another site.
The first incarnation of the FAC featured mostly Solo's female android manipulations as well as a few other early artists such as Kishin.
Later, Solo passed all materials and ownership of the FAC to Kishin who teamed up with Chevy Monza in the late 90s to keep it running.
During this time Chevy and Kishin diligently took contributions of stories and pictures from many of ASFR's earliest creators.
The new FAC sported artwork seen in the picture but was later removed at the artist's request.
[[FACsurprize.jpg|thumb|250px|third incarnation of the FAC's main page girl, rendered by Maax]]
A subsequent contest was held by Chevy and Kishin to find a new front cover picture.
The winner was Maax who used a CG graphic of an android with her face panel removed and a shocked expression on her face.

This article is a stub. You can help FembotWiki by expanding it and adding images.