User
:
Toastdroid
Jump to navigation
Jump to search
Creating this page so I can use it as a draft space
CLICK HERE TO VISIT MY GALLERY
DRAFT: Tag Tables
Blank version:
Content Tags (separated with semicolons)
Robotic Elements
Non-Robotic Elements
DRAFT: Fetish Producer Master List
This is a non-exhaustive list of all notable clip producers and independent models who have produced ASFR or ASFR-relavent clips. It contains links to the creator's storefront, a short description on the kind of content a model produces along with one or two recommendations. This page is currently a work in progress, so some elements are not final.
Clip Stores
All popular Clip Stores provide specific "Robots" categories that contain relevant clips; however, these categories are by no means exclusive to robot fetishism, and may only contain robot characters, or adjacent kinks and themes, so a prospective buyer should purchase carefully. These stores often function differently - some use an account system to manage purchases, some have social media and messaging systems, etc.
Models
Angela Sommers
Angela Sommers produces robot clips primarily involving freezing, blank stares and malfunctions, often involving solo masturbation and girl/girl scenes; these clips often include sound effects, often of electronics. She has worked with other models to produce robot content as well - primarily Kendra James. Her robot portrayals generally fall in the middle of the realism spectrum - playing an advanced, but obviously artificial robot.
Angela is currently active and producing clips.
---

Paris Kennedy
Paris Kennedy made a number of robot clips, primarily involving malfunctions. Most of her clips are solo, but some feature another model, often as a robot as well. Some of her clips contain electronic sound and vocal effects, and some of her clips are non-nude. Paris herself usually portrays a very humanlike android, only acting robotic during malfunctions, but she and more often the other models featured in her robot clips sometimes act more robotic as standard.
Paris is retired from the adult industry, but her clips are still available for purchase
---
Producers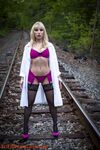 Ashley Fires Productions/SciFi Dreamgirls
SciFi Dreamgirls was a series of robot clips produced by Ashley Fires centered around a loose storyline involving Dr. Ashley Fires, her identical creation - the Ashley 3000, and the HRX Corporation. Around 80 episodes were produced, each episode featuring one or more robots in a sexual scenario. The series is notable for it's use of sets, special effects and props, including open panels for the robots, and the stories often involve robots being programmed, malfunctioning, and following commands. The robots in this series are generally programmed to be emotionless unless otherwise specified (eg, during sex) though the portrayal varies depending on the performer or character.
The series is apparently no longer being updated, but is still available for purchase, either as a subscription or as individual clips. Ashley herself is currently active, but has only produced 1 or 2 robot clips since.
---
Heroine Universe Nylon Fantasies
Heroine Universe Nylon Fantasies has produced a number of robot clips, generally involving maintenance and programming with the use of props for panels and some electronic sound effects. Their earlier clips are usually self contained, but later ones follow a storyline. They often use models who have done robot clips before, such as Christina Carter, but some - such as Tilly McReese have primarily made robot clips with the producer. The robots featured in this clip often feature a human mode with an aware or sometimes sleeper personality, and an emotionless robot mode.
The producer is still active, with the last robot clip being produced in late 2018.
---