Talk:Main Page
What should our Main Page look like?
I'd like to get some input on what the Main Page should be. I'm thinking we should do something similar to what Wikipedia does, which would be to have a featured article, a pic of the day and some other things like that. Of course with hardly a fraction of the content that Wikipedia has, I think that changing things on the Main Page once a week would be good. We should also leave links to the key sections of the wiki (gallery, stories, articles) on the front page to act as a sort of table of contents. What does everybody think about that? Robotman 17:45, 29 February 2008 (PST)
Hey guys. I'm going to take this opportunity to officially state my support of using the following picture as a frontpage, even if only on rotation. Keep in mind that I've already brought this up to Robotman and he prefers the Bionic Woman fembot to the Austin Powers fembot. It has the same basic aesthetic features with cleaner picture clarity- and more cleavage! :D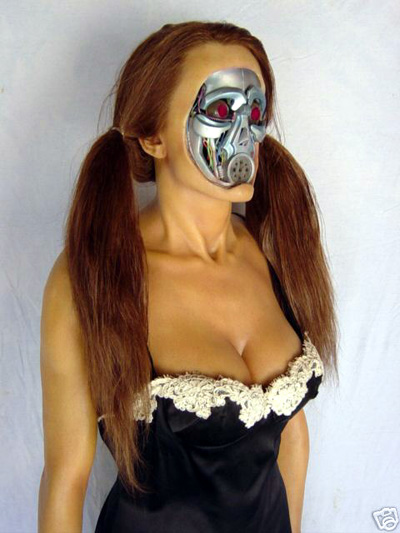 Borias 13:47, 1 March 2008 (PST)
lol
i am already accostumed to the maid :3 i only wished that someone added frames to the logo, it would be nicer, and the navigation bar too. Battery (PST)
Is Fembot Central down? Firefox tells me it can't access it without even trying to load. FaceoffFembot 13:34, 22 November 2014 (PST)
Me too. i thought it was only a problem in my area and so said nothing.Battery
March 22
Is the forum down? Propman
Yep. We're investigating. Robotman 09:31, 22 March 2015 (PDT)
Email Change Policy
Yay! The forum is back! I saw the post on having your email address updated: (http://www.fembotcentral.net/viewtopic.php?f=11&t=11920) But having done this in the past, I remembered having my account "disabled" until an admin reactivated it.... which never happened.
I think I remember having to post a text file to the upload section of an FTP asking someone to PM the admins to have that happen, and after a few months, it was finally activated.
So I was wary of doing it again, but I thought I'd give it a shot, and.... now my account is disabled again. Is there a reason why admins have to approve password and email address changes?
Either way, here's me, xBOT, asking that my account be re-enabled again. Thank you!
--xBOT [June 19, 2015]
On Fembot Central, the setting that requires admin approval for new accounts (to prevent spammers from filling up the board with junk) also makes it necessary for admins to re-approve accounts that have certain details changed. There isn't anything that can be done about that. There is a list of deactivated accounts that Kishin and I can see, and yours appeared there this morning. It's activated now, btw. I've never seen your account appear on the deactivated list before. I'm not sure I know what you're referring to about uploading a text file to an FTP server, but I do remember several years ago there was a problem with reactivating certain accounts after Fembot Central had been down and returned. Back then, KOS-MOS wasn't able to find a solution for the problem, and the affected users had to create new accounts. In any case, your account has been reactivated, so let me know by email if you still have any problems logging in. Robotman 08:51, 20 June 2015 (PDT)