Cybernetica Strikes!
Jump to navigation
Jump to search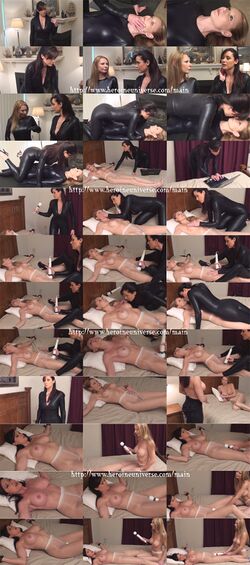 Cybernetica Strikes! is a custom video filmed by Heroine Universe. It is a 35-min bionic/robot movie featuring Christina Carter & Savannah.
Plot and description
From the Heroine Universe website:
"Cybernetica Strikes!" - 35-min Bionic/Robot movie featuring Christina Carter & Savannah! 4 Forced Orgasms!

Hey fans! "Cybernetica Strikes!" is a 35-min long custom movie that I filmed for one of my great fans.

Unfortunately, this being the first time use of a new camera, I had a sound distortion problem. Long story short: the custom is SUPER HOT, featuring multiple orgasms, lesbian play, and bionic/robot storyline, but since the sound was distorted (i.e. it gets a little muffled, then pops back to normal - you can completely hear everything the whole time, but it's definitely a distortion), I didn't want to release it. But the fan who requested it really liked it, and insisted that I release it so fellow bionic/robot fans could check it out. Because of the sound issue, I'm releasing it at a VERY low price.

The storyline revolves around two robot fembots Savannah and Christina Carter (both wearing black catsuits). Savannah is lying on the table, as we see Christina return from a dangerous mission against the evil fembot Cybernetica. Christina re-programs Savannah, infecting her with a virus. Savannah is unaware, and when she wakes up, she talks with Christina for a while, before Christina (acting as a puppet for Cybernetica) de-activates Savannah. After a little lesbian play, we find Savannah tied spread eagle on the bed, wearing only sheer white pantyhose!

Fembot Christina (still as a puppet being controled by Cybernetica) enters, and explains the situation, and how she's forcing Christina to torment Savannah! Christina pulls out the vibrator and goes to work on Savannah, tormenting and pleasuring her with it.

Savannah has been de-activated, so all she can do is lay still in her bonds and take the forced pleasure. In a long session, fembot Christina, acting as the puppet of Cybernetica, FORCES SAVANNAH TO TWO AMAZING ORGASMS! But it's not over, as we see Cybernetica force Christina to transfer herself to Savannah. Now Savannah is in control (as the puppet of Cybernetica) as she forces Christina to undress herself (leaving Christina in just sheer white pantyhose).

We now see Christina tied down, and Savannah (acting as Cybernetica) is in control, and after some back-and-forth lesbian play and dialogue, uses the vibrator on Christina! Christina struggles, but she's been de-activated and is bound, and must take the forced pleasure.

Savannah FORCES CHRISTINA TO ORGASM TWICE IN AN AMAZINGLY HOT SCENE! The end comes when Cybernetica (inside Savannah) tells Christina that she's going to go after other fembots, and will leave Savannah holding the vibrator on Christina's pussy, thus forcing Christina to orgasm over and over until she's rescued!

Full Photo Collage at http://www.heroineuniverse.com/main "
It may be possible to contact Heroine Universe for special requests and pricing information.
Links

This article is a stub. You can help FembotWiki by expanding it and adding images.